Le dessin des carrosseries Roadster, désormais familier, s'étire majestueusement sur les 3,50 m d'empattement de la Type 46, "une silhouette de très grande classe, à la hauteur du mythe".

On voit ici le chassis n° 46292 (891-W-31 - 424-AZD-31 en 2003) [141] non confirmé. Cette voiture a été commandée par l'agent Mondan & Wilson, de Paris. Elle appartient depuis 2001 à Jean-Claude Marnier qui l'a faite restaurer. Pour cet exemplaire, le carrossier n'est pas clairement défini (?).

Puis on voit la rouge et noire... mais est-ce bien une Type 46 ?... Les premières Type 50 étaient construites sur des châssis Type 46 non vendus !

et le n° 46373 (4311-AL9 en 1930 - 7845-RJ7 en 1935 - 400-Y - 969-J) [255] (photo N/B suivie de la photo floue). Cette voiture a été commandée par l'agent Laroussé, de Paris, et vendue au pilote, et ami de la famille, Meo Costantini, puis à R. Morin.
A la fin les photos N/B montrent deux exemplaires, n° chassis inconnu, montés dans les ateliers Gangloff. Si la première est identifiée comme une Type 46 par Bugatti Trust ainsi que par Barrie Price... elle est définie comme une Type 49 par bugattiregister (?).

Le modèle suivant (blanche avec ailes et toit noirs) est probablement la première carrosserie (faux-cabriolet ?) du chassis n° 46551 (890) [413] appartenant à l'argentin Carlos Alfredo Hunter. On parle aussi du n° 46169 (435-NV1) [43].

Puis on voit un autre modèle Gangloff, équipé d'un phare central supplémentaire devant la calandre... Cette voiture illustre la couverture du livre de référence " La petite Royale " (anciennement The Last Real Ettore Bugatti Car de Bohuslav Klein, Roland Saunier & Kees Jansen). Chassis n° 46556 (5106-NM1 en 1931 - 78-BQ-64 en 1955) [400] commandépar Lamberjack et livrée à M. Casamayou.

Et dernières images, le chassis n° 46324 (9635-RG7 en 1933 - 8265-YB2 en 1934 - MC-64) [229], vendu à Louis Chiron (sur la photo... avec la dame au trombone !) via l'agent J.B. Warner, de New York ! La dame au trombone est Miss Paris 1931 et la scène se déroule à l'Artists' Automobile Championship qui comprend une course sur route et un concours d'élégance. On le revoit avec, à l'arrière, le mécanicien Lucien Wurmser.
Suivi d'un exemplaire original à la fois luxueux et sportif, un dessin également utilisé sur quelques chassis Type 50... N° chassis inconnu. Celle-ci aurait été livrée à la Comtesse de Gramont (?)


Une question, un rajout, une précision... un souci ? Contactez-moi au contact@automobileweb.net
cliquez sur les vignettes pour agrandir les photos...
Ces informations et photos proviennent de recherches sur Internet. Les résultats sont, pour la plupart, vérifiés dans les nombreux ouvrages de ma bibliothèque (voir page bibliographie...). Les affirmations discutables sont suivies d'un (?)
>> Vous pouvez accéder à ces pages (si elles existent encore...) en cliquant sur les liens qui apparaissent ci-contre, en haut à droite.
Ces liens sont spécifiques à chaque page : partageons la passion !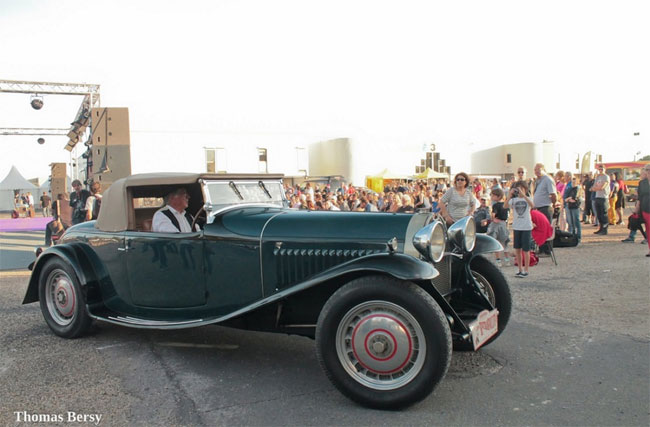 Image 19 of 45
< Precedente | Index | Suivante >
Un peu de Pub ? n'hésitez pas à cliquer... ça ne vous coûte rien, et ça me paye l'hébergement ! merci.
Ce Site utilise des cookies, en continuant à naviguer, vous les acceptez